The American Lancia Reunion Southern California 2018.Click Here.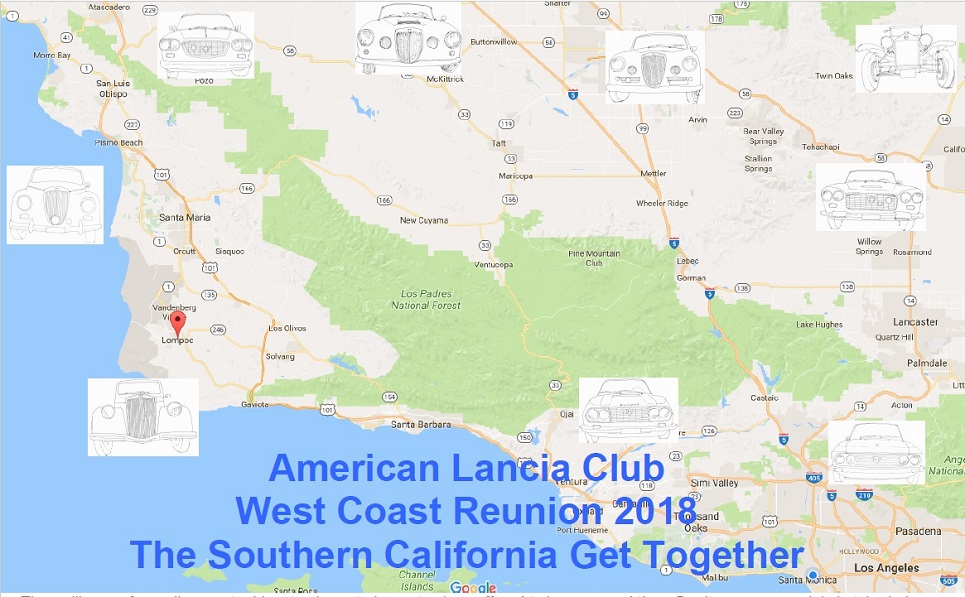 The Northern reaches of the Southern California awaits you all. Celebrate the diverse
landscape, from beautiful windy mountain roads to dead straight dessert highways to
beautiful ocean vistas as we explore this diverse landscape.
This year in addition to providing the traditional weekend of Lancia joy, we want to
encourage those enthusiasts who cannot take the time to spend an entire weekend off
to participate in our celebration of this very fine automobile marque.
Therefore we will start our reunion Friday, May 18th in Atascadero with our traditional
meet and greet starting around 4ish. We will have wine and cheese leading up to
pizzas as the party continues.
Saturday morning we will continue on interesting roads as we head south to a large
lunch gathering where we will join those coming up for the day. A BBQ lunch in the park
will be provided. Following lunch we will continue west through dessert, mountains,
rolling wine country to the 101 at Los Altos and then continue to Lompoc. A tour of the
Wine Ghetto and Dinner at a Lancia-Friendly Italian Restaurant will be provided.
Sunday morning will include a Breakfast meeting of the Lancia Club to undertake official
business as needed and then for those that wish can participate in a short rally to the Ocean
so you can get your feet wet (yes it will be cold). We then assemble for a concours, a food
truck lunch and awards ceremony in a park in town. In the afternoon Folks will be free to
enjoy the sights around Lompoc, including the beautiful Purisima Mission in Lompoc or visit
one of the many fine wineries in the area before heading home.
For those wanting more (and who doesn't want more) there will be a Southern Delights After
Tour. This will commence from Port Hueneme on Monday Morning and continue through
Wednesday Lunch time- more to follow.
To allow for varying levels of participation there are three different packages:
The Day tripper Package : Includes Saturday BBQ Lunch Tee Shirt & photo Op.  
Fee: $65 per person
The Over Night Package : Includes The above plus Saturday Night Dinner In Lompoc
Fee: $115 per person
The Weekend Package : Includes The Above Plus Friday Night Gathering In Atascadera
 Fee: $135 per person
Event registration will be available online and open November 4th through the ALC website
or LaLancia.com Website. Links will be provided.
As we wish to open this up to all including non-ALC members (who hopefully will join the
Club) we will be distributing flyers at appropriate car shows and also on the LaLancia
Website. It is therefore highly recommended that Hotel rooms be booked early as we only
have a limited number of rooms blocked out.
A block of rooms are set aside for Lancia Club members at the Best Western Plus Colony
Inn in Atascadero for the Friday night. Their phone is 805 466 4449 and the price includes a
hot breakfast. The rooms are blocked under the name American Lancia Club. The rate is
$199.99 plus tax. (unfortunately there is a big wine festival in Paso Robles that weekend).
A block of rooms are set aside for ALC members at O'cairns Inn and Suites In Lompoc.
There phone number is 805 735 7731The price is $131.26 for a King room and $150.30 for
a twin Queen room and includes a hot breakfast.
So book your room and then register for the event in November.
To Register Click the home page and choose, American Lancia Club Reunion 2018 Tickets and select your package.